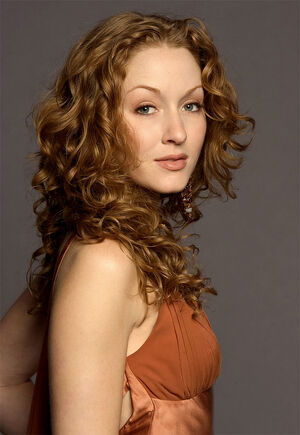 Jennifer Munson Donovan (formerly Kasnoff) was a fictional character on the CBS daytime soap opera As the World Turns.
Actress History:
Edit
Michelle Ann Nemeh (1990-1991; recurring)
Sara Garney (1992-1993; recurring)
Brianne Sassone (1993-1995; recurring)
Alexandra Herzoy (1995-1999; recurring)
Kim Onasch (07/1999-03/2002)
Jennfier Ferrin (07/2003-07/2006)
Other Information:
Edit
 Born (on-screen) October 29, 1990 [later changed to October 29, 1983]
Died July 7, 2006
Family and relationships:
Edit
Parents:
Edit
Sibling(s):
Edit
Marital status (at death):
Edit
Past marriage(s):
Edit
Children:
Edit
Other relatives:
Edit
Charles "Chuck" Ryan (maternal grandfather, deceased)
Jennifer Sullivan (maternal grandmother, deceased)
Harold Munson Sr. (adoptive paternal grandfather, deceased)
Louise Munson (adoptive paternal grandmother, deceased)
Richard "Rick" Ryan (maternal uncle)
Melinda Grey (maternal aunt, deceased)
Frances "Frannie" Hughes (maternal aunt)
Claire Munson Shelby (adoptive paternal aunt)
Jennifer Ryan (niece, deceased)
Eliza Ryan (niece)
Hallie Munson (adopted niece)
Tess Shelby (adoptive paternal cousin)
Cassandra "Cassie" Shelby (adoptive paternal cousin)
Rebecca "Becky" Shelby (adoptive paternal cousin)
David "Davey" Shelby (adoptive paternal cousin)
Benjamin "Ben" Shelby Jr. (adoptive paternal cousin)
Flings and relationships:
Edit
Also See:
Edit
Ad blocker interference detected!
Wikia is a free-to-use site that makes money from advertising. We have a modified experience for viewers using ad blockers

Wikia is not accessible if you've made further modifications. Remove the custom ad blocker rule(s) and the page will load as expected.